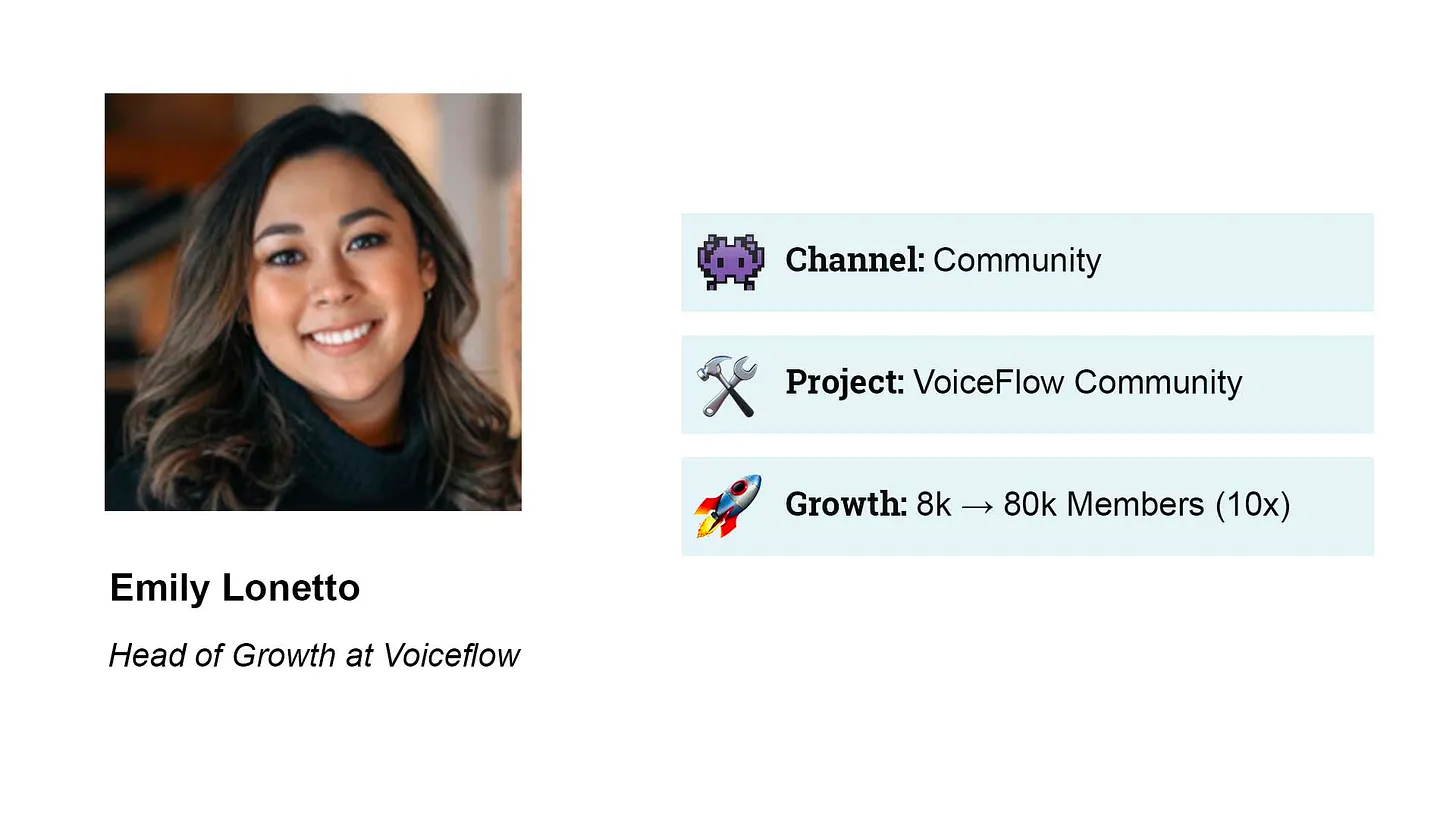 What does Voiceflow do?
Voiceflow provides an easy way to design, prototype and launch conversational AI using little to no-code.
👨‍👨‍👦‍👦 Target Audience: Remote Companies (B2B)
Designers (core demographic) - people creating visual products for companies
Developers - technical engineers looking to take advantage of SDKs (Software Development Kits)
Makers - individuals looking for one-click-to-publish solutions
Briefly describe the growth channel
Community was VoiceFlow's first growth channel, so the tool was built on the backbone of this first group. It started as the small group of power users obsessed with the product. The community has grown into a place where people can skill-share around what they are building.
💡 Why this works
Community is more an extension into growth than an input/output engine. It's an environment. It's a conversation with your users.
The community acts as a product feature that brings in new users and activates people on the fence.
When they join, it makes them part of the product community. This boosts referrals and recommendations through organic social methods, but also the activation for their product. Getting answers to obstacles and seeing use case examples drastically increases activation rates.
Health metrics: sustained engagement (% of people interacting with posts vs. how many people are passive users)
→ very important to maintain a strong active to passive
Growth: tie it directly into company OKR growth metrics (# from community as beta users, # of people attending workshops, etc)
📈 How has it gone so far?
In the past few years, Voiceflow has scaled its userbase from 8k to 80k, with over 10% of all users actively participating in their community.
But it's not all about member growth. They keep an eye on "health metrics" for their community, such as sustained engagement – % of people interacting with posts vs. how many people are passive users. It's extremely important to maintain a strong active to passive presence.
They also measure non-member growth metrics like the # of beta testers coming from the community, the # of people attending workshops, etc.
🏗 How was it built?
When first launched years ago, it was almost impossible to find people building for voice. They disregarded 'traditional' channels (like ads) and instead started their own as FB group comprised of parents interested in using Alexa for bedtime stories (
Storyflow
 app, one of the first most popular Alexa apps). Quickly realized they had unintentionally created a tool to build these experiences that could be used by anyone to create their own.
Some of the earliest users were fathers and mothers who were users of Storyflow, looking to build themselves. What started as a handful of early users has turned into a community 8k+ strong and over 80,000 designers & teams building around the world.
Voiceflow community started on Facebook, which remains their core community. From there they added a 
Dicourse
 forum, and a lively Twitter community. Their big plan in 2022 is creating an owned centralized space to live.
💡 How to build your own community growth channel
Community is hot right now, but it's difficult to create a vibrant and valuable community. Everyone WANTS community, but it's hard to create habits and make it organic and useful (not just a way to promote your company).
Think about it as setting up a party. Who will be your initial group to set the mood? What individual rooms in niche areas will you create?
Step 1: Start with the target area you want your community to be (who is it for, product specific or whole industry)
Step 2: Find your earliest ~10 "power" users that are constantly engaging with you
Step 3: Select your platform (leverage places where your users already are)
You don't want to have to teach your users a new habit when you are trying to introduce them to yourself and the community
Step 4: Create your community and onboard the first power users
Make sure you can maintain and grow the relationship with this initial group before moving on
Step 5: Open up membership + onboard (most of the work)
Make sure you match all the new incoming power users, and say NO to the wrong members
Give light guardrails on how to act within the community
Provide an FAQ, resources, ways to meet people and experts, etc.
Cultivate meaningful habits for all new members
Step 6: Empower the community to lead itself
Once you have a core group of active members, they'll create enough content that you can start to slowly step back and focus on moderation
Step 7: Once your community reaches scale, consider building your own platform for the community to live on
(This is what Emily and her team are currently working on)