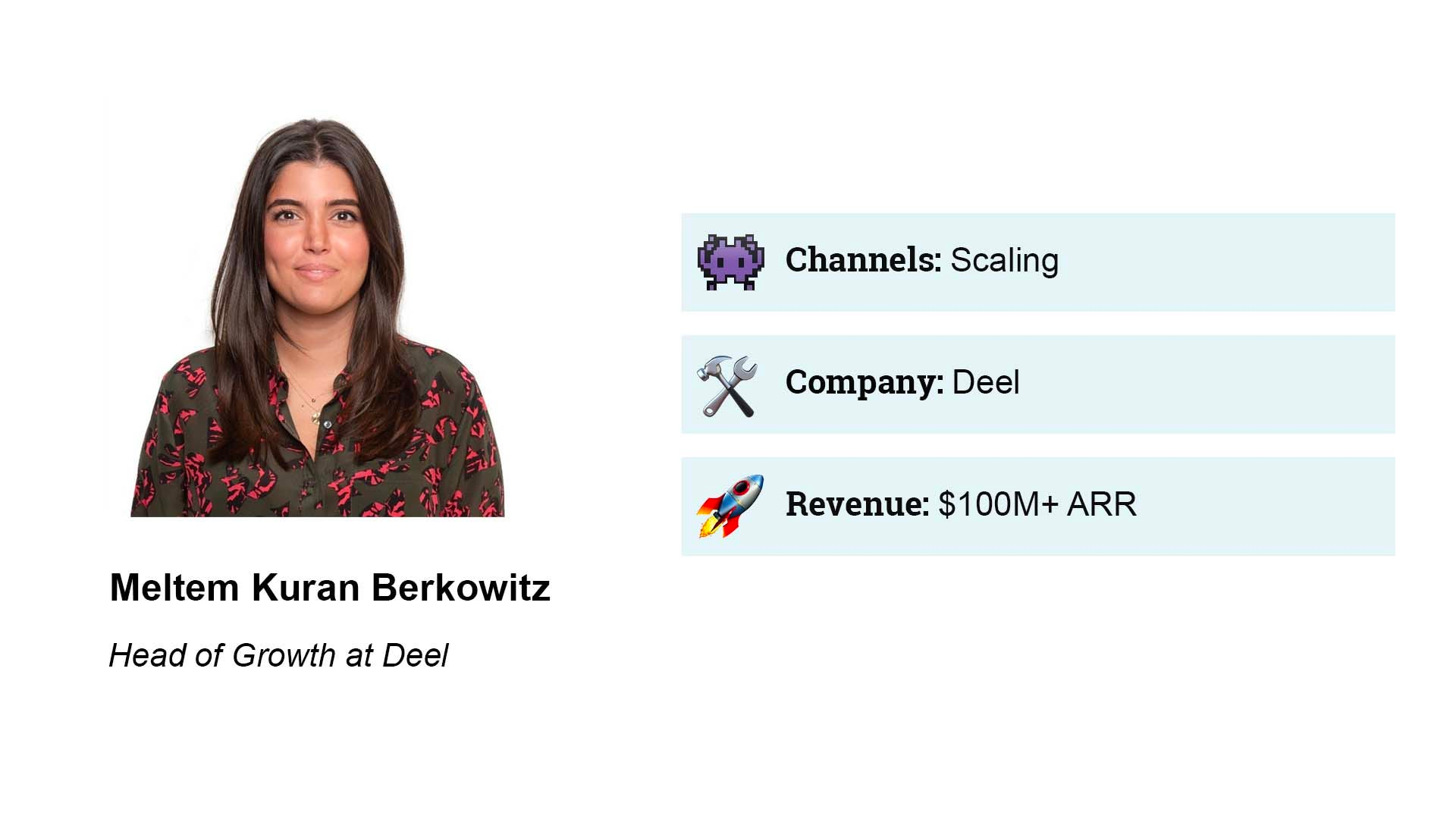 What does the company do?
Deel
 is a payroll and compliance platform that allows companies to hire internationally. You can automate onboarding, EOR, Global Payroll, and compliance no matter what country you are hiring in.
Their product is used by major companies like Shopify, Dropbox and Airtable. They recently 
raised $425M in a Series D round
, bringing their valuation to $5.5B. They've also recently crossed the $100M annual recurring revenue (ARR) milestone. The need for global HR and payroll solutions recently exploded with the rise of remote work, when companies realized they could hire people in any location. They soon realize that this comes with administrative complications, of which companies like Deel can solve.
Meltem has been with Deel for over 2 years, so she's led growth efforts through an astonishingly fast pace of scaling. Here she breaks down how Deel has achieved hyper-growth and what she has learned.
👨‍👨‍👦‍👦 Who is Deel's target audience?
Any company looking to hire someone that is not in their HQ office location (i.e. companies hiring internationally)
📝 Briefly describe how Deel grew
According to Meltem, Deel has gone through two different phases of growth:
The first phase can be thought of as building the infrastructure for scaled growth.

Hyper-growth, like a skyscraper, requires a solid foundation to be able to withhold its own scale.
The second phase is more scaling around localization.
Phase 1 - Building the foundations for Hyper-growth
The first year of Deel's growth was spend doing things that many people describe as boring. The tactics aren't flashy, but they are the basis that the growth engine is build off of
Build a Content Engine
Early on, their content traffic was primarily driven by SEO. They only recently started focusing on conversion content aimed towards turning traffic into sales. Meltem explains that It's easier to add 10k traffic a month to your blog if you're doing SEO right than optimizing a blog.
Learn how to build a new growth channel each week from a top growth leader or founder
✓
How did they approach SEO?
According to Meltem, it's boring, time consuming and people start cutting corners. That's why most companies fail at SEO
Get a list of ALL keywords that are tangentially related to your product (for Deel, it was payroll).
Get a list of around 1k keywords from a tool like Google Keyword Planner. Go through each and color code on red, yellow and green based on priority. Mark green the terms that someone would also be interested in your product by searching
Sort green terms by search volume and by country (use different sheets for each country). Prioritize green high volume, then go down the list
Write a LOT of content that is high quality
Instead of having one person in house writing, build a team of freelancers that are both content writers and editors.
Have 20 freelancers producing content each week, get 3-4 pieces a week paired with in house stuff your team is writing. With this system they can post 2-6 articles a week on a blog that are high quality and edited
If it's high level thought information, keep it in house. If it can be researched, use a freelancer
How to find writers?
Look for journalism students! They are cheap, motivated and excellent. Students and recent grads are talented and know how to do research. Literature graduates fresh out of (or still) in college are also excellent
All of the good universities have job portals. Most have ones where you can reach out to and post a job. Often companies who post there are big corporations, but no one is stopping startups from posting! You can leave it on all the time to get an influx of people applying in a constant flow
Paying a student well is still SUPER affordable, so make sure you do pay them well and make it a genuinely good opportunity for them
Optimize your content for SEO
Use Clearscope - a content and SEO tool that makes it way easier for writers (NOTE: In a few weeks we'll have an episode focusing on Clearscope as a growth tool!)
It automates the SEO brief and how to write optimized content. You can hire a great writer who doesn't know anything about SEO and turn them into an expert
Go back to update the content that may have gone stale one week each month
What else did they do during this foundational stage?
Ensured their paid ads were returning solid LTV
Focus only on channels that are working and ruthlessly cut ones that don't
Partner with companies early on that make the most sense
Build the funnel and make sure it works! Ask what you can do to increase each, instead of some cool marketing campaign
In this first stage they treated campaigns like a performance model. That means they weren't always sexy and flashy, but they worked well!
Phase 2 - Scaling
The second stage of Deels growth focused on scaling around the foundations they'd built. Again, this stage would not have been possible without laying the groundwork in part 1.
So how did they start scaling? Primarily through localization. They met with their audiences in their own language and setting. This included things like events, selective out of home advertising (very selective in locations like Israel, San Francisco and New York), swag and the translation of their site and blog.
PR efforts
People like to focus on these things they did later on. To an extent, that's the point of scaling PR activities, like their remote work pods in New York. But early stage startups should leave these activities for a later stage. In fact, Meltem jokes that despite their size, Deel only recently got official swag. In the early days, employees would print their own mockups!
Scaling through localization
When it came to the translation of local sites and launching in new locations, they focused on the priority markets of their audience. Simple as that! They started by optimizing and translating their website and content in these locations, then began actually launching in new markets as they scale.
If something works really well in Norway, ask if it can be used in other locations. Their strategy tends to be different in each location. Now, they have regional marketing leads in each major location. They key is in understanding the top of funnel and WHY people hire internationally. Their pitch is the same no matter where they are, but who buys in each location is different.
Scaling their content
Meltem has a simple way of understanding content:
Website = toolcontent = strategy
You can have the greatest tool in the world, but if you don't have a solid strategy behind it, it's worthless. Focus on things that are scalable (again, once you've reached this second phase).
In the early days they were focused entirely on creating great content that brought in organic traffic. They still do this today, but now have the volume where they can focus on things like conversion rates. They run more tests with things like downloadable assets and gated tools. As an example, they've created a Maternity policy that can be downloaded, under the assumption that anyone who takes that action is interested in hiring.
As a general rule of thumb, if something is useful they keep it open. If it's SUPER valuable they gate it through email. If you're already in a space where SEO is hard to win, then you should focus on building out the best possible content library and push it out on social. If you have a good chance of ranking within a niche, try to own as many keywords as possible.
You can follow Meltem and her growth work on Twitter